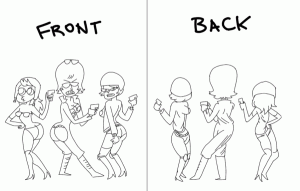 The aristotelian ideal form of all t-shirts has been designed by Meredith Gran; look upon it and tremble. I said tremble, damn you! And while you're trembling, please enjoy more Strong Female Characters with dialogue (via Kate Beaton) and motion (via Carly Monardo) and color (fanart by Pascalle Lepas).
Speaking of comics that would never be published by DC or Marvel, I picked up the second issue of the revived Dark Horse Presents anthology. A lot of it is … well, it's pretty big creators doing exactly what they want to and that's great, but when exactly what they want means exactly what they do for publishers, only bigger/louder, well. Yeah. There are some standouts, though, with Paul Chadwick's Concrete being well known as the opposite of loud; likewise, David Chelsea's Snow Angel is charming.
The two best pieces, though, are done by webcomickers — Carla Speed McNeil knocks it out of the park with a Finder short story (actually continued from issue #1, but perfectly readable on its own) that has really lovely color by Jenn Manley Lee and Bill Mudron.
From Down Under, Patrick Alexander turns in the very silly, loooping-back-on-itself story of The Wraith, which is sort of what Batman would be like if he were a complete dick with a penchant for mean-spirited slapstick. It's definitely the most fun piece out of the 80 pages.
And while it's not one of the more compelling contributions to DHP#2, Rotten Apple benefitted greatly from some really nice colorist work from Boxer Hockey's Tyson Hesse (honestly, I wish those eight pages had just been given to Hesse for a BH short story). So there you have it — Dark Horse are continuing to find talent among independent creators, a lesson that all of the publishers could well learn.