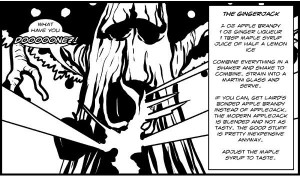 So, I gotta renew my CPR certification this weekend, do some community events with my EMS crew, or I'd be totally heading to conventions, one or the other, on opposite sides of the continent for my convenience.
For those of the Canadian bent (or with a current passport, mine's in renewal right now), there's the Calgary Expo, featuring the likes of Cameron Stewart, Danielle Corsetto, Dave Kellett, Kris Straub, Lar deSouza & Ryan Sohmer, Scott Kurtz, Tarol Hunt, and the TopatoCo Crüe (including Chris Hastings, David Malki !, Emily Horne & Joey Comoeau, Ethan Nicolle, Jeffrey Rowland, Jeph Jacques, Kate Beaton, KC Green, and Ryan North).
For those of you that don't have Calgary in your plans, there's MFTWWorld¹ — Philadelphia, featuring Christopher Baldwin, Colleen AF Venable, and hometown boy Brad Guigar, who's debuting his latest Evil, Inc collected volume, which only just arrived.
Instead of hitting the shows, I believe I'll be mixing up some drinks at home, with the help of some new recipes from my fellow cocktail-enthusiast, "Doctor" Chris Hastings. Seems that Saveur magazine has been contracting with a series of cartoonists for recipes in comics form², and Doc's just went up — an exploration of ginger-themed mixed drinks, which I am assured underwent extensive and rigorous quality testing.

There's both classics and original recipes, one of which, the GingerJack, makes liberal use of Laird's bottled in bond straight apple brandy [PDF] (aka "the good stuff"). It's been confirmed that Hastings's recipe for the GingerJack is original, as I was present when he was introduced to Lisa Laird Dunn (the 11th generation of Lairds to head the family distillery), who confirmed that she's heard of no such use of her product before, and that it sounds "delicious". I'm gonna count that as proof — 100 proof, to be exact.
_______________
¹ Megan Fox Tits Wolverine, the truth-in-advertising name for the magazine once known as Wizard, whose successor company runs this and a million other "comics" shows.
² Check out last week's contribution, by Dorothy Gambrell, for chocolate ice cream with chili peppers. Yum.