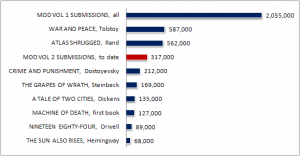 We're a couple of weeks into submissions for Machine of Death 2 (Electric Deathaloo), and the news of just how many stories have been submitted is pretty amazing. From David Malki !'s twitterfeed:
So far we have received 103 submissions, for a total word count of approx. 317,000. (That is about the length of The Fountainhead)

We are at 1.5 Crime and Punishments, 2 Grapes of Wraths, and 0.6 Wars and Peace.

About 1.3 Ulysseux and 1.5 Mobies Dick
So, quite a lot for Messers Malki !, Bennardo, and North to sort through. Since my submission for the original MoD was rejected (along with about 96% of all submissions, if my back of the envelope figures are good, so no hard feelings to Mr North, Mr Bennardo and Mr Dreamcrusher), I hadn't really thought of any MoD stories I'd like to tell, but to be honest — the new submissions announcement caused one to pop into my head.
Here's the thing, though — I've got a germ of an idea, maybe even a unique idea in the MoDiverse, but I don't think that I can develop it to the point where it would be very good. As we at Fleen have discussed in the past, the notion that ideas are scarce is at best a distraction — execution is all that matters.
Thus, I'm giving this one away — I have no idea if it's as unique as it could be, I have no idea if anybody out there can develop it to the point that it's good enough for inclusion, and I sincerely apologize to Messers Bennardo, North, and Malki ! if they get flooded with poorly-executed submissions taken from this seed. Details below the cut, and no complaining if it turns out nobody but me wants to read a story built around this idea.
Seen 'tother day on American Elf: James Kochalka expands his (literal) multimedia conquest to filmdom, and will possibly be viewable on your TV:


I performed in a really cool animated (rotoscoped and other techniques) indy sci-fi romance, called MARS. The movie has never seen wide release, but they're currently in negotiations with Netflix to make the movie available on their service. So, please add MARS to your netflix queue! This will help make our dream of getting the movie on Netflix come true.

I'd be curious to see MARS, if only to find out if rotoKochalka gets elf ears at some point.

Big round numbers alert: Michael Terracciano hits 2500 updates of Dominic Deegan: O_____ for Hire¹. One may also note that by an accident of timing, the day after tomorrow will also be the ninth anniversary of Dominic Deegan; long time, lotta strips.
_______________
¹ I work for a company that makes various solutions for data — storage, analysis, and general info-bothering — and make it a personal policy to never spell out or pronounce The O Word because I dislike their products. No reflection on Terracciano's work is meant or implied.

I want to read a story from the POV of the Machine of Death. There have been stories about the creation of the machine, the creators of the machine, what the machine does, but the how and why of the Machine's working haven't been seen yet. I have this image in my brain of a machine intelligence (maybe the Machine itself, maybe somehow the Machine communicates with this other intelligence somehow) that reacts in an almost Pavlovian fashion to the blood samples.
Sort of like an autistic gourmet that takes a bite of food and immediately recites off all the ingredients and constituent flavors, this entity gets a drop of blood and (for lack of a better word) tastes SHARK or POISON or UNFORTUNATE CIRCUMSTANCES and says so in a stimulus/response fashion. That mechanical action is the ending point — the meat of the story would be the awakening of the Machine, or the other intelligence's contact & establishment of communication with the Machine.