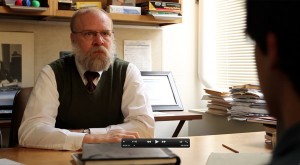 The rumor and innuendo swirling about was damn near impenetrable. Suddenly, a mysterious message appeared in my inbox, promising shadowy secrets in webcomics, and for once it didn't come from Eben Burgoon. Who could the beardy figure in that photograph be? The possibilities are endless, although the filename — prof_smith — offered tantalizing possibilities, but nothing concrete. Then I just read the email and it was all obvious:
[W]e're making a PHD movie! — Jorge
Yeah, probably shoulda just read the damn thing first 'stead-a getting all worked up. Jorge Cham (for it was he that sent the not-very-mysterious email) tells us that it's not yet decided how/when/where the movie rolls out, but if they went to the trouble to find a guy that's such a dead ringer for Professor Smith, I'm guessing that the project is planned well enough to see completion on time, under budget, and without any hint of procrastination. Jorge would never procrastinate. Besides, if you look closely enough at the picture, there are playback controls, so I'm betting a significant chunk of the film is "in the can", as they say in Hollywood (or Hollllywood as Bullwinkle tells us is correct, with "three or four Ls").
Now, the only question is if Cham plays the (thus-far nameless) POV character in the movie.
In other news:
New books have been announced by Rich Burlew and Paul Taylor. They would be, respectively, the special-to-Dragon-magazine monthly strips that ran outside of regular Order of the Stick continuity, and the post we-kicked-the-calendar-machine's-ass strips from Wapsi Squre. For good measure, Burlew will be donating $1 per copy of Snips, Snails, and Dragon Tales bought or pre-ordered this month to the Japanese Red Cross for earthquake and tsunami relief.
Per The Beat, the nominations for the Stumptown Awards have been announced, to be held on 16-17 April in conjunction with the Stumptown Comics Festival in Portland "Stumptown" Oregon¹.

What I found refreshing is that that Stumptown Award jury, in contrast to pretty much every other comics-related awards program — has essentially drawn no distinction between webcomics and not-webcomics. Carla Speed McNeil's Finder: Voice (cf: here) looks to be the most-honored work, and it's a web-to-print creation. But look at the multiple nominations for Emily Carroll's His Face All Red, which is purely a webcomic.

Carroll's not up for Best Artist That Doesn't Use Paper or Best Colorist That Works In Pixels, she's up for Best Artist and Best Colorist, period. Heck, Ben Costa's nomination for Best Colorist nod is listed as for Pang: The Wandering Shaolin Monk, but is that for the book or the webcomic? It doesn't matter, and the Stumptown Awards are the first to really erase that distinction. Bravo.
_______________
¹ Stumptown, Stumptown, Stumptown, smock!