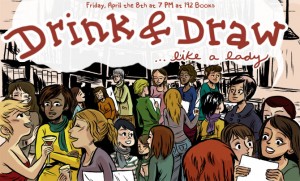 For the past couple of years, one of the most successful and generally-agreed-upon-as-fun events that's occurred in proximity to the MoCCA Festival has been the Drink & Draw Like A Lady meet-up. At least, that's the report that I've always gotten, as (not being of the XX chromosomal persuasion, much less a lady) I haven't been.
Event brainstormer Hope Larson won't be at MoCCA Fest this year, but she's passed organizational duties on, and arrangements are being ably handled by the likes of Raina Telgemeier and Lucy Knisley. If you are a lady who loves/makes/sells comics, head over to 192 Books (Tenth & 21st in New York) on Friday, 8 April, starting at 7:00pm.
Have you guys been enjoying the between-chapters break at Curvy? It's been sexy and occasionally SFW guest strips all week, from the likes of David McGuire, Erika Moen, and Megan Gedris. More than just a chapter break, these strips also honor ten years of webcomickin' by Curvy creator Sylvan Migdal. If Curvy is the first of his work that you've read, go familiarize yourself with earlier works like Spork, Rho, Mnemesis (don't be put off by the fact that the first page says "The End"), Ascent, or Where the Typos Og.
I believe that I may have mentioned in the past that there are certain no-longer-updating pages that I always go back and check; I don't care what anyone saw, some day Vera Brosgol will get the sudden urge to finish Return to Sender, and I'll be ready when she does. Occasionally, these acts of extreme optimism pay off, as this morning when I noticed the following:


Because there are more heartwarming childhood memories still to share … You Damn Kid returns on Monday, March 7 2011.

Yes!

Owen Dunne's had — and returned from — numerous hiatuses (hiati?) in the past, but he's always come back, and I've always been waiting when he does. Maybe it's because something in his work speaks to me. Maybe it's because the first webcomics purchase I ever made was the YDK print collection and a sketch of Jethro and the frog rocket wiener. Welcome back, Mr Dunne; also: Clippy!

Let's finish up with a quote that I found yesterday after reading Axe Cop: Bad Guy Earth #1:


"Zany" clearly does well on the Internet, and another graphic-novel-compiled webcomic, Dr McNinja, definitely embodies the word. It's memo-olific, with pop-culture references flying a mile a minute. I super enjoyed realizing, "Hey! That's a He-Man quote!" and patting myself on the back for being clever and "in". The pace of this comic is super fast, and my mind was whirling in glee at some of the outrageous stuff that happened.

That was reigning nerd-goddess

Felicia Day, in the March 2001 edition of "Horsepower" (which runs on the inside back cover of Dark Horse comic books) in reference to the upcoming fourth overall/first from Dark Horse Dr McNinja print collection. Hey, Chris, now that you're all buds with Ms Day, can you get her autograph for my wife? Awesome.