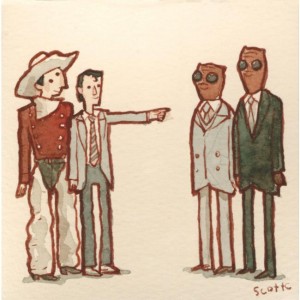 One of the very best things that's come about from talking about web/indy comics and their creators is getting on :01 Books reviewers list. Almost embarrassingly often, one of their new offerings (my preference list skews heavily towards YA and/or graphic novels) shows up in the mail, and then I get to read the likes of Walker Bean, Koko Be Good, or Dawn Land, and that makes my day (often, my week).
And before I even get to open the book, I get to revel in yet another gorgeous book design, because :01's secret weapon is Colleen AF Venable. Even if Ms Venable isn't doing her webcomic anymore, she's expending a lot of creative muscle on the embosses, debosses, glosses, foils, and shiny mirror finishes (case in point: the advance copy of Astronaut Academy — née Astronaut Elementary — I got last week) that appear on her covers. Where careless use of such features just makes things look cheap (cf: the entire "speculator boom" of 1990s comic books), Venable uses each carefully, adding maximum interest without overwhelming the essential purpose of the cover, which is to be appealing and intriguing.
Because good design is something that deserves attention, please spend a little of yours on this new interview with Collen AF Venable by That Cover Girl, complete with sneak previews of forthcoming projects. If you aren't salivating to get your hands on those Feynman and Anya's Ghost covers, there's something wrong with you.