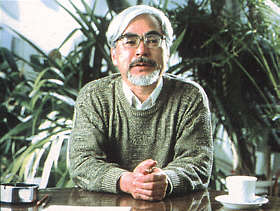 Hayao Miyazaki, perhaps the greatest animation director that ever lived (and understand that I have multiple Chuck Jones originals hanging in my home, so I set the bar pretty damn high) turns 70 today. Aside from the fact that I was once close enough to reach out and touch him (I did not), my relationship with Miyazaki is based purely on the astonishingly high quality of his many animated films. His works have made me laugh until I cried, cry until I laughed, and think until my thinker was sore.
Although to the best of my knowledge Miyazaki has never worked in webcomics, it's entirely meet and proper to salute him today on this page for a few reasons:
The quality of his work is near-universally acclaimed, and his influence is apparent in the work of many who do produce webcomics
His approach to his creations is rather webcomicish — although Studio Ghibli is big enough to merit its own museum, it doggedly pursues personal projects guided by almost singular vision, rather than having a market research driven, corporatized approach to its creations
It's my damn blog and I'll salute whoever I want to
We'll also mention that, in conjunction with Miyazaki's birthday, the ToonSeum in Pittsburgh is hosting a series of screenings of his movies this month; anybody in Western Pennsylvania, Eastern Ohio, or that weird little finger of West Virginia that sticks up rudely that hasn't seen Laputa: Castle in the Sky, My Neighbor Totoro, or Princess Mononoke on a bigger-than-TV screen, don't let this opportunity pass you by. Laputa runs 7pm on Thursday the 13th, Totoro 3pm on Saturday the 22nd, and Mononoke 7pm on Thursday the 27th; admission is by donation.
Recent long-form comic read-it-in-big-chunks catch-ups: Go Home Paddy, Zahra's Paradise, Sailor Twain. All are just about to cross that point where getting all caught up is slightly inconvenient. Also, a huge re-reading of about two thirds of A Girl And Her Fed, because … well, never mind why. If you haven't read it previously, it's only about four dozen strips since the big jump in the storyline (part one finished, part two is "five years later", you can get caught up here) and now's a good time.

The Guigster made a comment the other day at Webcomics Dot Com (subscription required) that he thinks 2011 will be the year of the longform story webcomic, and with contributions like these, it's hard to dispute him.

Finally, the TCAF '11 website is now live, and wowsers just look at the list of exhibitors. Aside from the minor detail that the partnerships of Frank Gibson & Becky Dreistadt, and Ananth Panagariya & Yuko Ota only list the first half of each team (by coincidence, the writerly halves), there's pretty much not a damn thing I'd change about this lineup. Now to see if the sovereign nation of Canada will let me across the border.