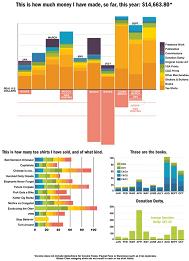 For those of you that don't follow my Twitterfeed, the last 24 hours may be summed up thusly:
Modern travel schedules are a myth
I do not possess sufficient bodily insulation to survive the Minnesota winter
The cold has interrupted the food supply chain
It appears that if I do not wish to starve, I must hunt and kill one of the numerous ice weasels that are even now surrounding my current locale, probing for signs of weakness. Assuming I don't survive this bout of nature, red in tooth and claw, please consider the following:
Dorothy Gambrell has presented another in her occasional series of financial disclosures in graphical form. One may try to divine truths there, but fact is the sample size (one) means that any conclusions you draw are only partway supported by statistical relevance to the members of the sample population (Gambrell herself), and essentially without application to anybody else. For myself, I think that it approaches a geometric beauty all of its own even when divorced from the monetary meaning.
Daryl Cunningham, having previously taken apart vaccine opponents, homeopathy proponents, and moon-landing deniers, decided that his inbox and comment threads weren't filled with enough specious logic and invective (much of it featuring multiple correctly-spelled words) from those that feel differently than he does. Thus, he now tackles the intersection of the scientific, economic, and political, taking a gander at climate change. As always, it's good comics.

And as always, the early comments are brief, in aagreement with Cunningham and reasonable; the somewhat later comments are longer, and may contain respectful disagreements on certain points. This means we're about to hit the point where the entirely unhinged and insane comments make an appearance, so be prepared.

Eisner nominations are open. As in prior years, the categories are largely restricted to material that ships to bookstores, and Best Webcomic must take the form of:


[L]ong-form stories published online in 2010; webcomics must have a unique domain name or be part
of a larger comics community

I'm of the opinion that webcomics shouldn't have their own catch-all category like this. If (for instance) Karl Kerschl's art on The Abominable Charles Christopher is as good as his art on Assassin's Creed (and it is), it should be eligible in the same categories (no disrespect to Kerschl's co-artist on AC, Cameron Stewart, but Stewart got the Eisner for Sin Titulo last year, so let's use Kerschl for this example). Ain't gonna happen this year, but I wonder — if one of the big publishers released a title only in digital form in 2011, what would the awards look like in 2012? Not shipping a comiXology purchase to the stores.