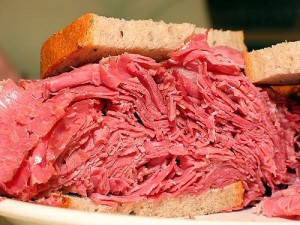 While we at this page have recently bemoaned the lack of regular/frequent Achewood updates, it appears that it was all for good cause. Having recently obtained and read Dark Horse's third Achewood collection, A Home For Scared People, one easily understands that Chris Onstad has been putting much of him time into the supplementary material in this book.
As if the strips from early May to late October 2002 (including the entirety of Roast Beef on the moon, plus Ray's first two startup businesses) were not enough, there are multiple character portraits of Ray and Roast Beef (including Ray on Beef, Beef on Ray, and digressions on the both of them by Téodor and Mr Bear), as well as an interview of the pair of knuckleheads since small times, by Téodor. The latter contains pure, unbridled comedic gold at every turn. For example, when Téodor makes the mistake of bringing up avocado in the conversation:
Téodor: What?
Ray: [scratches cheek]
Beef: [looks at floor]
Téodor: Seriously, what?
Ray: You uh … I mean, Beef and I really ain't down with avocado.
Téodor: Avocado is delicious. What do you think guacamole is?
Beef: Guacamole is a lot of tasty stuff held together with a necessary green slime. Served on a tasty, salty, fried corn chip.
Ray: Did you know that they did some tests, and an avocado is the exact bell-like shape of a filled-up colon? That's why the Incas called it the ptoxábl, or "hind fruit".
That's what I've been missing for the past months; I thought it might have gone away for good, but it was getting collected in prose form. Here's hoping that Onstad, having produced such for one book (and presumably more), will now have the time to get his store updated. I'm being completely serious here — I want to reward him with cash money for giving me these thoughts out of his brain, and the Achewood shop is entirely too heavily dominated by "out of stock" messages.
In other news, almost exactly six months ago, a Canadian gentleman given to blogging on comics-related items named Chris Bird (the eponymous Mighty God King of this bloggishness) released the first page of his own webcomic. Al'Rashad: City of Myths has now hit 24 pages, wrapping up Part One (or issue #1, if you prefer), and collecting the weekly pages in one spot for easy reading.

In correspondence with Mr Bird, I commented on his ability to spin a world that obviously has much richness beyond the pages and characters that he has revealed so far. His disturbing tendency to show, not tell, and to create something new instead of rehashing a plot that had been done at regular five-to-seven year intervals since the Silver Age is rare and infuriating — how am I to enjoy this story if I don't already know the entire thing?

He did not, he assured me, miss that memo, but rather he set it on fire, and then jump[ed] up and down on the burny bits. Check out Al'Rashad, and if you like comics from the Big Two, read his pitches for Legion of Superheroes and Doctor Strange, and somebody give him a writing gig.

Y'all have been reading Box Brown's Everything Dies, right? His exploration of religion, faith, and What Comes Next goes self-reflective in the latest update, But I Don't Want To Die … A Personal Religious History. Much like Tolstoy remarked that happy families are all alike, but every unhappy family is unhappy in its own way, I suspect that every formerly-religious, currently-not person has their own story as to how they wound up that way. Kudos to Brown for sharing his.