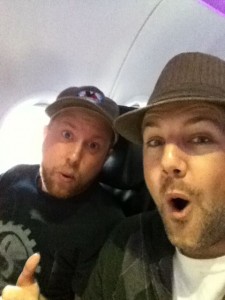 If you've been paying attention to the Twitterfeed of one Mr David Kellett ("The David stands for Dave"), you may have noticed a trend over the last several weeks: tweet after tweet after tweet after tweet of screencaps from a mysterious documentary, often in proximity to the mysterious (and beautiful) Fred Schroeder (tiny piano optional).
During NEWW I sat down with Mr Kellett and Mr Schroeder to find out about this documentary. Be warned, on the topic of this project, the two of them speak almost as one voice, starting and finishing thoughts for each other, like a hive mind that decided two brains was sufficient and why bother with the rest. Thus, except for a brief bit near the end, it is not clear who said what exactly, nor does it really matter.
Bottom line: Dave and Fred like comics, think this is an important point in the history of comics, and want to produce a record of what these times are like. What started as (potentially) a look at one cartoonist (Kellett), his studio and methods, and how he approaches the business end of his craft, has become a fairly broad look as the state of cartooning as a technological shift undoes a century's worth of business model.
We think this is a really interesting time, not just casually, but in relation to how the business models are changing, the technology to create comics is changing, and also changing the way people read comics.

Other media have had turning points like this, but they weren't captured at the time. It could be viewed as a scary time, but we see it as fascinating.

Comics have had at least five different business models in their history; they've gone from a patronage/subscription system to portfolios and pamphlets to printmaking to today's comic magazine/strip format. This is just the latest of changes the artform has gone through, but it survives because it's so powerful, and so flexible.

It's also interesting to talk to creators, see their process, see their studios, learn how they approach things. When I was starting out, I'd have killed for a peek inside that curtain.
— Freddave Kellett-Schroeder, except for that last bit which is probably more the Dave half of the collective intelligence
They've spoken to established masters, some upcoming geniuses, and, weirdly, at least one hack webcomics pseduo-journalist. On this score, they are perhaps a third of the way through their interviews, with at least 75 sessions to be completed before that portion of production is complete. Asked for a list of dream interviews, they mentioned names like Trudeau, Groening (who agreed to sit with them while at the OSU Festival of Cartoon Art, as soon as schedules allow), Breathed, Adams, Rall, Spiegelman, and Munroe. Commenting on such an ambitious list of names, they noted that everybody they've spoken to has been enthusiastic and supportive of the process once they've seen the level of care that Schroeder and Kellett are bringing to the table:
Thankfully, people have been very generous, very open, 99% of the time it's been just a matter of timing and logistics. From a filmmaking standpoint, it's heartening to see how supportive cartoonists are of each other. It's nice to see the snowballing effect of cartoonists recognizing that we love the medium, and want to explore it in depth.

Jeff Keane was a little wary at first, but during the interview he saw what we were doing. We got to the end of our time and he said, "I've got an appointment, but I can give you another half-hour." He wanted to know what he could do to contribute to the process. — Freddave Kellett-Schroeder
It's worth noting that Schroeder and Kellett were particularly productive with interviews at the OSU conference and a recent trip to SCAD; this is not a coincidence, given their view of where cartooning is headed:
We're also at a new place in terms of how cartooning is accepted in academia; it's achieved a legitimacy and even a sense of equality (with respect to literature, film, music) is building (but not yet achieved). Ohio State is out there, finally putting a stamp down to say "We need to preserve and save this work." SCAD, RISD, SVA are saying it's worth teaching the techniques and skills so that each generation doesn't have to relearn the art from scratch. And not only worth teaching, but teaching at the university scope, and not merely as a skill for trade schools. — Freddave Kellett-Schroeder
Just in case there wasn't enough to address in the film (which doesn't yet have a name — not an unusual occurrence in the world of documentaries, I gather), there's the nature of how current society itself is changing:
[The movie] also gives us the chance to use the microcosm of comics to explore the macrocosm of the shift from analog to digital. That's the fundamental shift of the present century, and it hasn't been explored in a fun way yet.
Interviews are projected to continue through the spring, then the serious business of editing can take place. In addition to a feature-length cut of 90 minutes or so (hopefully by next October to hit the film festival submission dates), Kellett and Schroeder are promising supplemental material (possibly to be released online, possibly as DVD extras). These could include full unedited interviews, or alternate cuts of the interviews on given themes or topics. They acknowledge that such niche material might not appeal to a large audience, but see it as service to those that are interested. Kellett compared it to how the Eisner lectures or Wally Wood's 22 panels are still passed around by comics artists because of their value. As for the width of distribution:
SCAD has asked us to their film festival in the fall, but we're not certain yet what form the film would be in. We'd love to put it in theatres, but it might be on public television, or it could just go around the festivals. Our other option is to follow the webcomics model and distribute it online ourselves. Most likely, it'll be two or three of these methods. — Freddave Kellett-Schroeder
Naturally, all of this will depend on financing; at the moment, Schroeder and Kellett are footing the bills themselves, but hoping to get some third-party support soon. There are grant-making foundations that might contribute, or it's possible that a promo trailer could prompt PBS to supply funding to finish it (in which case it could take the form of a multipart series). Individuals might choose to invest in the film, and Kickstarter remains a possibility. Once done with the interviews, the long process of sound mixing, color timing, creation of infographics, transitions, and editing remain, but both Schroeder and Kellet describe it as a passion project — that they will find a way to get it made. Expanding on the issue of money and potential market:
Schroeder:
You can quote me on this: I'm rich as fuck.
Kellett: [disbelieving look at Schroeder, exaggerated pause] Yeah, anyway, How To Make Webcomics is going into a third printing, so there is a market for people to find out about comics, about the philosophy, about the process.
Schroeder: We could also sell the DVD places like SCAD, to people studying sequential arts.
Kellett: The fact that we're in a time of change and anxiety, it adds value to the information.
Fred: It's also very sexy.
Kellett: Nuthin' hotter than pale cartoonists.
Schroeder: Hot pen-on-paper COMIXXX action.
And with that, I think we have a title for the film; look for Hot Pen On Paper COMIXXX Action in late 2011.