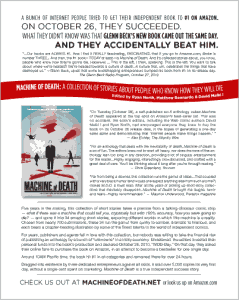 The Very Special Episode of webcomics known as Machine of Death week wraps up the only way it could, with a moral:
And then, the #1 book — TODAY, at least — is Machine of Death. And it's a — collected stories about, you know, people who know how they're gonna die. Haowww!

So you have DEATH — I know it's called Life, but what a life it is, really! It's a culture of death! OR, "How do we restore ourselves?"

These are the — this is the left, I think, speaking. This is the left. You want to talk about where we're headed? We're headed towards a culture of death. A culture that, um, celebrates the things that have destroyed us.
Whoops! That's the opposite of a moral; that's a somehow-embittered multi-millionaire crabbin'. But hey, since I voluntarily listened to three minutes of Glenn Beck (first and last time), you get to read a portion of the transcript. You're welcome. Here's the moral:
A young entrepreneur, the son of a self-made immigrant small-business owner (a God-fearing Protestant who'd married a girl from a family of missionaries), had a crazy pie-in-the-sky idea. Having learned the rudiments of business by working since he was small in the family store, he struck out after his goal, investing himself into something he really believed in, inspiring both colleagues and strangers to join his cause even as "big business" slammed door after door in his face. For years he toiled long into the night, gradually growing his own small business by being as honest, kind and creative as he could manage. Ultimately, in a tremendous Rudy-like moment, he and his ragtag band of reg'lar folks — for one glorious day — accidentally made the twelfth book by the multimillionaire host of "the third-most-listened-to show in all of America" debut at #3 on one single bookseller's list, rather than at #1.
This couldn't be any more heartwarming if it came from Dad Brady himself. But even better than heartwarming (and this is where Malki !, North, et. al., catapult themselves into the pantheon of heroes) is what could be happening next:
We also realized that we had an opportunity here to gain a level. We could have struck a deal with a publisher, potentially even a lucrative one, that would have been nice in the short term and could probably have led to interesting places. But we have larger goals than just signing a book deal, and we realized we could play the long game here, not just for our benefit — but for the benefit of our friends and colleagues in webcomics as well.

And so in the last few days, using resources offered to us that previously would have been absolutely inconceivable, we have laid the groundwork for a complex but amazing publishing/distribution structure that, in the future, should hopefully allow us to get not just Machine of Death, but also all TopatoCo-published and TopatoCo-partnered books into regular bookstore/retail channels, both in the U.S. and abroad.
That right there is the game-changer, and I have no doubt that what we hear next will be worth all the Beck-grousing in the world. If you contributed to Machine of Death, I'm buying you a beer.
Edit to avoid confusion: The "I'm buying you a beer" bit applies to those whose work in included in Machine of Death, not the 5000 of you that bought it.