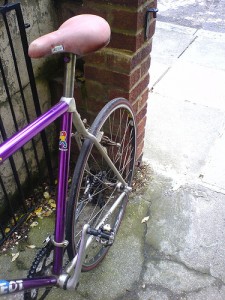 Okay, so Angela Melick does a webcomic, knows her way around the right-hand rule, and married a guy with a talent for website development. End result: Webcomictweets, a combination Twitter reader, aggregator of statistics, and single point of contact for what's going on in the webcomics world (once the list of included folks is sufficiently beefed up, that is). It's got a lot of on-page functionality, it doesn't turn up its nose at my (admittedly niche) browser of choice, probably isn't blocked from your place of work (yet), and it's fast. Heck, if not for the fact that I follow a few folks outside of webcomics, I'd probably make it my new Twitter client.
Submit your site for inclusion (or heck, just submit webcomics superfan Mike Kinyon's lists of webcomickers — comics and creators only, we bloggers would only clog up the place), and start following the community.
Label dead, comic continues: High Moon has been a critical darling for the (just about) three year of its existence, and the disappearance of home base Zuda be damned, creators David Gallagher and Steve Ellis still have stories to tell. If you haven't checked out High Moon yet (with the Zuda imprint no longer extant, the publishing of future volumes on paper would seem to be up in the air), you can always check 'em out at ComiXology. Expect to see other Zuda refugees over there in the immediate short term.
October Events: MoCCA is continuing its series of comics classes, with topics such as anatomy (general) anatomy (hand), writing, collaboration, plotting, animation teamwork, and more. Details at MoCCA's education page.

On the other side of the country, the Cartoon Art Museum will be having a party in conjunction with APE, with proceeds to support the museum's mission. Special guest will come from the featured artists of the concurrently-running Storytime! exhibition, and will include Dave Roman, Raina Telgemeier, Amy Martin, and Keith Knight. Check out the CAM booth at APE for a complete list of attendees.