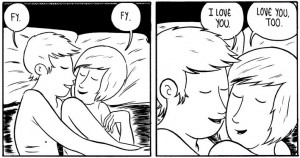 There are so many webcomics that don't get mentioned here very much — naturally, as I am only one guy, I can't keep up with everything that's created. In a few cases, though, there's comics that I read and just don't think to write about, since I tend to focus on the new, novel, and unusually good updates — and some strips just operate at a high level of consistent quality and not have unusually good updates that stand out from the rest (coincidentally, these tend to be strips that cartoonists regard as favorites). Thus, an unforgiveable paucity of mentions of strips like Three Word Phrase, Cat Rackham, and others.
When these consistent high-performers do sink into my thick skull, it tends to be because they're wrapping up, like the recently-concluded Order of Tales, the about to conclude Bellen!, and today's conclusion to Ellerbisms. There's no flash, no fire, no big AND THEN, A NATION BONDED THROUGH THE POWER OF LAUGHTER here — it's just another day for Marc and Anna, one with some highs and lows, some stupidity and forgiveness, and all the stupidity and grace that tells you this is how life actually happens. Marc Ellerby will continue to make comics (Chloe Noonan looks amazing), and the really good comics will continue to be really good whether my satisfaction at reading them makes enough of an impression to write about them or not.
In other news, progress on NEWW 2 proceed apace, with lots of news likely to break rapidly in the coming weeks. Intervention continues to rack up sponsors and guests o' plenty, and seems set to make a major splash for a first-year con. Hotel block deals are up in the next week, and remember — you can drift between Intervention and SPX, which is literally 2 km down the street.
Big Round Number Alert: 300 strips at EROS INC, which despite the name is not an adult-oriented affair; it's about a nice Jewish girl that finds herself working for an eternally-old agency that matches people up (she got recruited because the little cupid guys they used to use are lazy buggers).
Not exactly webcomics, but what the heck: Girls Drawin' Girls sends some of its crew on the road to the Cartoon Art Museum's bookstore next Saturday from 2:00 to 5:00pm. Visitors will be able to watch the artists at work and look through previously produced pinup projects. The press release doesn't explicitly say so, but I'd wager if you wandered over, you'd get to talk shop with the Girls (draw-ers) and possibly the Girls (draw-ees).