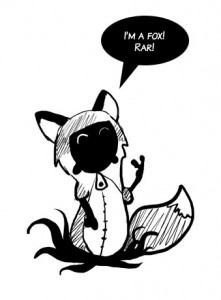 It occurs to me that a running list of my titles here at Fleen would actually constitute a pretty accurate (if brief) day-to-day history of life in my early 40s. That's a sobering thought, which I suppose means I can go drink to make up for the soberification (shut up, it is too a word).
Neglected to mention yesterday that Ursula Vernon's Digger is now up to book 5, which those of you at Anthrocon can buy starting about … now? I haven't found any info about where/when the rest of us will be able to purchase it, but I will be certain to share with you once I know. Also revealed on that page is the fact that we're barrelling towards the story's conclusion; I had known that Digger was due to wrap this year, but seeing that we're in the actual endgame — glad to see how it will all wrap up, sorry that it'll be done.
Got some Intervention news for y'all today. As far back as February (when the internet culture show was first announced), it was known that some of the programming tracks would be hands-on; in particular, there would be sessions devoted to content management systems and their installation/configuration. Today, that particular track got a little more interesting:


Big announcement for webcomic artists, WordPress users, and web developers: we've just signed up the lead programming developer for ComicPress, Frumph, to appear at Intervention and host panels and hands-on workshops for CSS, WordPress, and ComicPress set up and tweaking.

[T]his is your opportunity to talk with and get one-on-one advice and tips directly from the developer about set up and upgrading. We will be announcing details on how you can register for the hands-on workshops in the next few days, along with the costs for these extra limited events. Frumph will also be on some open panels, so anyone can stop in and ask general questions as well.

This is especially interesting, given that Frumph (or Phil Hofer, as his mom calls him) announced what essentially amounts to his retirement from the office of unpaid ComicPress frontman some two months back. Hofer probably knows ComicPress as well as anybody on the planet, and the opportunity to pick his brains about CP is a pretty significant thing for those trying to really tune up their websites. As such, please note the bits in the announcement about "limited events" and "costs" — there's going to be a surcharge, but in exchange for it you'll be in a small group setting.