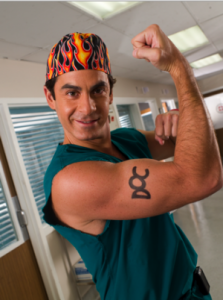 "Not This Shit Again"
Per Jess Fink's Twitter last night:
Well Todd Goldman is ripping me off again
Which references this image [edit to add: the infringing image has been removed, presumably by the original poster], which may be compared against Ms Fink's original (from a posting 18 months ago when this same image was ripped off by a designer that sold a shirt to Forever21; note to anybody that might want to steal from Jess in the future: pick another damn picture!).
Okay, time to govern myself accordingly, since the last time Mr Goldman was reported on in these pages, it took a month to clear up his dispute with Dave "Shmorky" Kelly, and resulted in both rude communications purportedly from Mr Goldman, and what I believe was a threatened SLAPP directed towards this site.
In the previous situation, Mr Goldman attributed the appropriation to "an artist working for his company" (compare and contrast to a 2004 interview where he gushed "I just keep coming up with ideas and ideas"). No public statement has been forthcoming (as of posting time) regarding whether or not Mr Goldman acknowledges the similarities or if it's those darn employees that are responsible. I will note that's an awfully big TODD signature on the print (only $600, marked down from $1200!).
We have questions in to Ms Fink, who will answer to whatever degree she believes does not compromise her own interests. We have also a request to Mr Goldman's representatives for his comment/response. More on this as it develops.