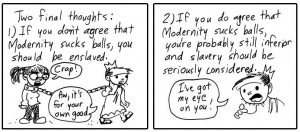 Oh, Achewood, when will I ever learn to suss out your story rhythms at the beginning of terribly important arcs? It started so ordinary (for you, at least): Ray trying to make conversation with Pat, Pat being a dick, and Ray upping the ante. Before you know it, Philippe was rocking the shades and bling and Ray was contemplating betrayal most foul.
The usual insanity followed, but then a sudden turn: Philippe could go home again, and frighteningly quickly, he was on his way. And since then, it's been one heartbreak after another for our little otter-man. This is why Chris Onstad is the best at character. This is why we read.
Brand new news in the past couple hours: Webcomics Dot Com members now have a negotiated 10% discount with Transcontinental. Given that many creators can't pay their printer bills until they've sold several thousand dollars of pre-orders, that has the potential to far outweigh the $30/year subscription fee that WDC charges.

Transcon (as the cool kids call it) has printed a large number of the webcomics collections on the shelf behind me (working from home rules), and to my knowledge, hasn't been involved in any of the screw-the-creator incidents (cough, the former Quebecor) that have reportedly plagued self-publishers. In fact, the only non-positive thing I can find on Transcon is that their parent company's website contains this nugget of joy:

Optimized for/Optimisé pour Internet Explorer 5 | 800 x 600

Nobody's perfect. But kudos to Brad Guigar on his continuing quest to turn a simple website into something like a professional society. Even if he does seem to think that my wrists are the same size as my neck.

Okay, background: Ken Smith, over at The Comics Journal (online), has been doing some really heavy writing under titles like "Science" and "Rationality" as the Mystical Cult of Chance, which I'm not sure relates to comics per se, but there you go. He's in the midst of a massive nine–part philosophical dive entitled The Cave of False Consciousness (isn't that where Luke Skywalker confronted Vader in a dream?), which posits … actually, I'm not quite sure. I went to nerd school and thus my education was heavy on simple, declarative sentences; as run-on as I can be on this page, I still can't wrap my head around Smith's central thesis (except perhaps: I am smarter than you).

Fortunately, I don't have to. Shaenon Garrity has been condensing down Smith's updates (starting with number V of IX) into single-page comic summaries. She's channeling Larry Gonick pretty effectively, reducing vast swathes of verbiage to simple panels, and reducing Smith's arguments to the essential core. Consider her intro to summary VI of IX:

Previously in Ken Smith comics, Ego tromped all over everything. Today I adapt the latest chapter of Smith's ongoing philosophical polemic and use the phrase "sucks balls" a lot.

Garrity should be encouraged to do this more — she's got a real talent for deflating overly-dense nonsense, and anybody who disputes that she is Radness Queen West of the Rockies sucks balls.