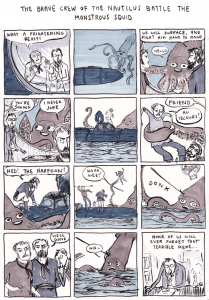 Where to start? How about with a live-action adaptation of the mystery solving teens — en español! Or with the extremely limited-edition fat pony sculptures (lovingly crafted by Nikki Rice Malki, who apparently does not take the honorific exclamation), which go on sale at Topatoco tomorrow at noon EDT, inevitably leading to an even bigger rush and hordes of frustrated, denied, would-be patrons than today's SDCC hotel wrangle (which, as of this writing, amazingly does not show as sold out yet).
Or maybe the fact that she's up for a Shuster Award again this year¹, in the category of Webcomics/Bandes Dessinées Web (along with such worthy competition as Attila Adorjany, Andy Belanger, Rene Engström, Karl Kerschl, Gisèle Lagacé and David Lumsdon, Tara Tallan, and Steve Wolfhard, not to mention Cameron Stewart in the Artist/Dessinateur category for his print work).
Long-time readers of this page know that I have a thing for webcomics depictions of squid, and it should be noted that on a day when all the rest of that was happening, Our Kate also drew: squid. Seriously, if I were the sort to believe that God was sending me signs to start a cult, yesterday would have been shouting THE BEATON SHALL SHOW YOU THE WAY.
In non-Beaton-related news (unusual, I know), did everybody see that Rich Stevens's inevitable march to conquer all media (via t-shirts) has claimed another milestone? Namely,prime-time network comedy featuring TV's Wil Wheaton. Now I'm gonna have to explain that I owned the Electric Sheep shirt before it was cool.
_______________
¹ I have to admit, this is the award that leaves me most conflicted every year, since the slate of nominees is always so strong. I think this year I'm pulling for Engström, because the ending of ALM made me sniffle and smile, or Wolfhard because Cat Rackham rocks my face off.