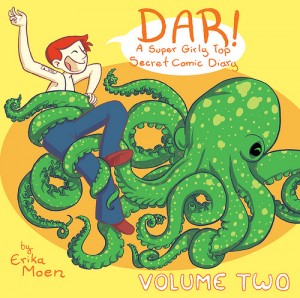 For those that enjoyed the Jess Fink covers yesterday, we've got more eyecandy for you today (this time from Hurricane Erika), along with some process porn. Is it weird that I, who creates no visual art, cannot get enough of this image-building? Anyway, it all builds up to a tentacle-rich conclusion, and should be available in time for TCAF.
Okay, not exactly webcomics, but I'ma go with it anyway. Andrew Farago, the oft-mentioned on this page curator of the Cartoon Arts Museum and champion of [web]comics in general, wants to raise some money for the museum and is willing to put his pride on the line to do so:


In honor of the Cartoon Art Museum's current exhibition, Batman: Yesterday and Tomorrow, CAM Curator Andrew Farago is turning back the clock to 1989. Or, to be more specific, he's turning his head back to 1989. If the Cartoon Art Museum receives $5,000 in donations between now and the evening of April 2, Farago will shave the famed Bat-Symbol into his hair at the Museum's annual WonderCon weekend fundraising party, just as many Bat-Fans did in the months leading up to the release of Warner Bros.' 1989 Batman film.

"My mother thought it was a bad idea 21 years ago, and I'm sure she'd still think it's a bad idea today. I've had plenty of bad haircuts before, but this is the first one I'll be getting for a good cause," said Farago.

Not mentioned in the press release is the reaction of Farago's wife, who will likely find the prospect of a Bat-Head husband to be either irredeemably stupid or rad beyond all measuring; I'm betting on the latter, actually. Donations can be made through CAM's website, Facebook pages, tinyurl, or by mail to the Cartoon Art Museum at 655 Mission Street, San Francisco, CA 94105 (please indicate "Bat-haircut" in the subject line, and don't forget to deduct it from next year's taxes).

So we're less than a month until the Jesus Pad completely changes comics (both print and web varieties) or doesn't. In the meantime, I have to believe that those that might be most impacted are publishers currently trying to distribute for-pay material electronically, but not going through any of the mega storefronts to do so.

Case in point: iPulpFiction.com, distributing some fairly big name authors, at really low price points, what appears to be be online-only material. At least, their new graphic novel, The Cobweb Dective Club is described specifically as "an online graphic novel", and I can't find any references to eventual dead-tree versions (while they're advertising the iPad as a viewing platform, near as I can tell, they maintain their own payment system).

General question for all of you early adopters — if you buy an iPad and oh look, no iPhone tethering to avoid having to purchase a second data plan — are you likely to then also pay to third parties, or will the ongoing costs drive you more toward free content? I'm trying to get a sense of what you're willing to purchase.

Quick reminder: Danielle Corsetto signing in Dallas tomorrow; details here.