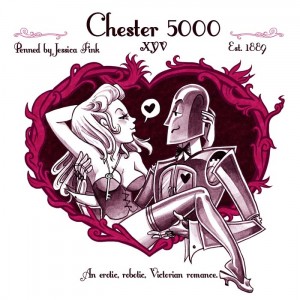 Let's just right to it, shall we?
Jess Fink gave us a treat on Saturday: the covers for her two forthcoming (i.e.: this summer) books from Top Shelf: We Can Fix It (a memoir of Fink's time-travel exploits) and Chester 5000 XYV (hot, hot Victorian robo-erotica) (warning: contains wang, both organic and robotic). I love both of those pieces, but the Chester cover just might be my new favorite thing ever. How Fink can do something so sexily charged and yet balance against a certain demureness, I'll never know.
There's a couple of major centers for cartooning scholarship in this country: SVA, of course, CCS and SCAD are fast establishing themselves, and CAM is the public face. But for good old-fashioned throw yourself into the collection stacks archivery, you really have to go with Ohio State University's Bily Ireland Cartoon Libary & Museum, which is undoutedly the premier collection of comics in the country, with maybe only the Centre Belge de la Bande Dessinée to rival the depth and breadth of its collection. The entire stack of original BONE pages is just one of the treasures that OSU has.

Every three years, they have a festival and academic conference on cartooning; the tenth one will be in October, and there's some interesting names on the presenter list: Matt Groening, Roz Chast (the best and most prolific New Yorker cartoonist since Charles Addams), Gene Yang, and some guy named Kellett. Kellett's particularly an interesting choice because he plans to speak in response to a speech at the same event 21 years ago by some guy named Watterson. As Kellett puts it:

At the 1989 Festival, Watterson spoke of the incredible potency in comic strip cartooning: This rarest of arts that let one artist, one voice, speak to millions. This artform that lets the personal outlook shine through, where so many other mass media arts do so by committee.

I want to speak to his concerns about the space allotted comic strips in newspapers; about zombie comic strips still being drawn long after their original creator had died; about why so many features have stale, interchangeable voices; or why so many are merely advertisements for dolls and greeting cards; or why comic strips in general have been on this slow, downward trend of diminishment in American life for the past 20-30 years

Because basically, I'm going to talk about this incredible change of fortune for the comic strip. I'm going to talk about Webcomics.

Note to self: see if the limited seating at the festival includes press access or not.

The hottest writer in webcomics is now six: Happy Birthday to Malachai Nicolle.
The donation drive to benefit Cheyenne Wright is underway here. From Phil Foglio:


Originally it was feared that he had congestive heart failure, which was surprising, as he is in his thirties and a quasi-vegetarian. It has since been disclosed that there is a fucking virus (Coxsackie B virus) that can cause it, and you don't even have to eat 2 pounds of bacon every day. He is doing better, but can only taste lemons, and is under the illusion that he has a pet squid named 'Renaldo'. We ascribe this to dosage issues with his medication.

That's just what Foglio wants you to think, as I happen to know that he's prejudiced against squid. All kidding aside, Phil & Kaja Foglio, and everybody that works with them, are stellar people and if you have a few bucks to spare, there are far worse things you could spend it on. How much food and shelter do you need anyway?

Finally, from Danielle Corsetto, jet-setter extraordinaire, news that the new, previously-unnamed New Jersey comics show now has a name, and a date, and a guest list! Wild Pig Comics II presents Wild Pig Comic-Con, May 15 & 16, in Springfield, New Jersey, complete with Ms Corsetto, her partner in infamy, Randy Milholland, David "I did exclamations before Malki" Willis, a stack of other web- and print-comickers, and the latest iteration of Super Art Fight. Total cost to you for all this? FIVE BUCKS. Seriously.