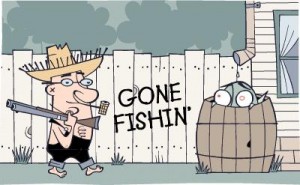 Readers of this page know that I love me some Abominable Charles Christopher (no link, as will become clear momentarily); Karl Kerschl's artwork is sublime, and the story is by turns heartbreaking, poignant, hilarious, and intriguing.
It's also dangerous right now.
It's Wednesday, so during a quick break I browsed over to the ACC site to get my chuckle on (successfully, I might note), and after reading the comic, noticed a blogpost from Kerschl that the site had been hacked earlier in the day. Then I noticed a pop-up warning from my virus scanner. Then I pulled the network cable and started researching.
These things change so quickly, it's impossible to say if Kerschl's site was seeded with just one variant of nasty, but at least in my case, I got a drive-by infection with what some call "Netsky Spyware Alert" or "Fake Worm". Did a bit of research (thank you HijackThis) some repair (thank you, LSPFix), and some cleanup (thank you, Malwarebytes), with invaluable reference info from people who hate badware even more than I do. And this is on a machine that uses Opera instead of Internet Explorer, as well as resident rogue blockers.
Anyway, as of this writing, Kerschl is working on cleaning things up with the able assistance of Official Smart Dude and ComicPress creator Tyler Martin. Karl will let us know when it's safe to go back in the water, and in the meantime, I need your help. I have promised Kerschl my assistance in beating the snot out of the lowlifes that targeted him in this fashion, and I'll possibly need bail money at some point in the future; you don't have to send anything now, just if you have a spare five bucks that could go to the cause, we'll let you know.
Also, please take this opportunity to double-check your own security arrangements, both on your personal machine and any sites that you may have. We will always have those that seek to do us harm, whether for jollies or for padding their own pockets. We will take hits from time to time. But we don't have to make it easy for them.
Okay, onto the non-suck: