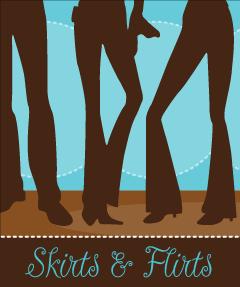 Everybody saw how the American Library Association announced the Caldecott, Newbery, and Printz awards yesterday, right? Today the Young Adult Library Services Association of the ALA announced their annual list of Great Graphic Novels for Teens. There's the requisite Huh moments to be found, but on the Top Ten list, one may find two items from the realm of webcomickry: Tom Siddell's Gunnerkrigg Court Volume 1: Orientation, and Jeremy Love's Bayou. Toss in a mention on the main list of the Dave Roman/Raina Telgemeier-scripted X-Men: Misfits 1 and you've got a pretty respectable showing. Well done, all.
So. Dave Kellett. Ignore the weapons-grade punnery that pervaded his strip earlier in the week, he's got something good to talk about; two things, in fact.
Thing the First: Dave's lovely and talented wife, Gloria Calderón Kellett is an actress, screenwriter, and playwright of no mean talent; on Monday, she'll be reviving her show Skirts & Flirts in LA for One Night Only to benefit the Clinton Bush Haiti Fund. Both Kelletts are in the show, along with a considerable number of their severely talented friends. Tickets are twenty bucks, and if you're of legal age you get free vodka. I saw the show when it ran in New York, and it were damn funny. Go.
Thing the Second: Dave can talk well. That seems like a minor thing, I mean most everybody manages that on their own, but what I mean is that he has one of those moderately rare brains that allows one to organize thoughts, put them into a compelling order, and make them sound interesting on the fly, which is a pretty neat trick. If you read this page, there's a pretty good chance that you've heard Dave on a majority of the Halfpixel Webcomics Weekly podcasts (now on indefinite hiatus), but hearing him go one-on-one is a different beast altogether. Tom Racine of Tall Tales Radio did exactly that, sitting down with Kellett for a lengthy, rambling (but not random) podcast interview. It's worth a good listen.
Just now noticed, and worth a read right now now now: Great, by Ryan Armand, who gave us the sublimely beautiful Minus. Starts here, hit "next" 58 times until you're caught up.