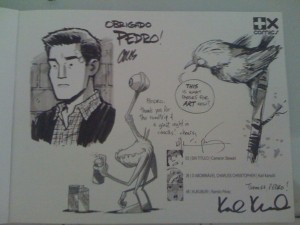 Holy crap, look at what the Amadora Festival has done for T-Xers Karl Kerschl and Cameron Stewart — whole galleries decked out in their signature styles. Along with Ramón Pérez, the three continue to take Europe (in today's case, Portugal) by storm, unleashing a festival-only book that must be mine. Please explain to me why I'm in rainy New York instead of sunny Portugal?
Holy crap, check out the gallery show that Eric Monster Millikin's got opening tomorrow night. Between Giger, Manson, and Millikin (who looks positively cheery compared to his fellow exhibitors), somebody is gonna have nightmares after viewing The Damned II at Tangent Gallery in Detroit.
Holy crap, this is some beautiful work. One Nate Simpson [edit to fix link; thanks Matt from the comments!] has written that he's taking a year off from making art for video games and to take a whack at producing comics. Doesn't look like he intends for the web to be his primary vehicle for distribution, but as long has he's channeling a cross between Moebius and Final Fantasy X, I don't care. I'll take what I can get.
Speaking of beautiful work, have you seen the brand new (like, two-pages-new) serialized-to-the-web graphic novel Spain & Morocco? Holy crap, that looks like it took some time draw. There's a bit of Eric Drooker in the color palette, methinks, and a bit of Sin Titulo in the character designs, and Sin Titulo's by Cameron Stewart who's going to be passing through Spain on the way to France, so it all ties back to the beginning.

In conclusion: Holy crap, I love comics via internet.