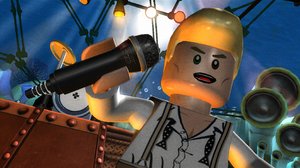 I'll repeat myself for those in the back: LEGO David Bowie. Okay, it's nothing to do with webcomics, but it's awesome (much like this video clip of students from my alma mater lighting the traditional Homecoming bonfire with a trebuchet). I suppose webcomics are awesome too; let's see if anything happening matches up (gonna be tough, considering that LEGO Rock Band will also feature a LEGO Iggy Pop).
Baltimore Comic-Con is coming up this weekend, complete with the Harvey Awards, hosted by webcomicstan's own Scott Kurtz. Anybody that hasn't seen Kurtz when he's got a microphone in his hand and just riffing along — it's worth the ride.
Long-time readers of this page may remember the New York Center for Independent Publishing, as they are the very cool people that put on the SPLAT! symposium about 18 months back. Not content to let one discussion of such matters take place, the NYCIP are doing a series of presentations on the theme of Comics History/New York History:


New York Comics as New York History: Tuesday, October 20
Comics historian Kent Worcester will explore the connection between the city's familiar streetscapes and the development of the comic book from the 1930s and 1940s to the post 9/11 era – looking at the ways comics history has mirrored the ups and downs of the quintessential American metropolis.

Cartooning and New York City Politics: Tuesday, November 3rd
Boss Tweed may have been the most powerful man in the City, but he was still tormented by Thomas Nast's biting cartoons. Parsons faculty member Bill Kartalopoulos will host a panel exploring the interaction between political cartoons, New York City politicians, and the public.

New York, the Super-City: Tuesday, March 9th
New York served as the model for Gotham City, inspired Will Eisner as he created the noirish adventures of The Spirit, and became a recurring character during the 1960s resurgence of Marvel in comics such as Spider-Man and Iron Man. ForeWord Magazine contributing editor Peter Gutiérrez will moderate a talk on the relationship between superheroes and their favorite hometown… and on how comics culture has promoted potent and memorable images of New York to readers worldwide.

"Carousel" in New York: Tuesday, April 20th
The series closes with a multimedia presentation hosted by R. Sikoryak, Parsons faculty member and author of Masterpiece Comics. This event will feature work and performances from some the of the top comics artists working in New York.

The series will take place the NYCIP, 20 West 44th in Manhattan (pretty much directly across the street from the famed Algonquin Hotel), starts at 6:30pm, and is yours for the low-low price of $15 at the door ($10 for members, $5 for students). Anybody that's around NYC on those dates that's reading this? No better way to spend a couple hours.
Corrections and Clarifications: Yesterday, Fleen quoted Brad Guigar, in reference to Ryan Estrada's new supervillainesque webcomic, as saying Fools! I will vanquish every one of you puny mortals and lay all your works to waste! Moohahahahahaha! Due to deadline pressures, Mr Guigar's quote was extrapolated from a pool of likely responses as calculated by the Quote-O-Matic 2000™ we got secondhand from Fox News. When reached for comment at his remote secret lair, Guigar actually said, I really don't feel as if I own the rights to a villain-themed comic. He then added Mwa-ha-ha and ceased transmission. Fleen regrets the error.