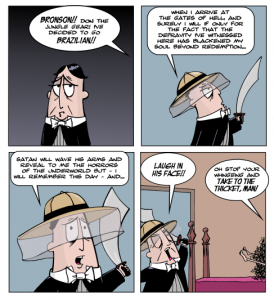 For those keeping track of such things, there's still a stack of books from the recent comics gathering that I got and haven't read yet. Capsule reviews: Dr McNinja 3 and Girl Genius 8 are both shining exemplars of how to bring a payoff to every thrice-weekly page, while still having an overall story develop. Since I'm mentioning Girl Genius, word from Phil Foglio is that the recently-finished-catching-up-online Buck Godot epic, Gallimaufry, will see print in January. Hooray!
If you've ever looked at the list of websites over there to the right, you may have noticed waaaay down at the bottom is one that hasn't seen updates in a long time; Owen Dunne's You Damn Kid updated for a long time, released a book (via Keenspot's imprint), got optioned by Fox TV, went on hiatus, came back, went on hiatus, launched a bunch of other comics, went on hiatus for a long damn time, came back with a live-action video series this past February, and managed a pair of updates before reverting to hiatus.

Please don't misunderstand me — I labor under no illusion that Owen Dunne is my bitch, and I don't mean to bring up the irregularity of his comickry as a means of criticism. Life gets in the way, and through all the interruptions, YDK has retained its place on the links because I really like Dunne's work and consider myself essentially infinitely patient waiting for the next iteration which begins today:

[Y]ou get paid and hate your job, I make squat but I like to do this. And that place where we meet in the middle is The Happy Monday Place. Or something like that. So welcome, and I hope you make it a regular stop each week.

So here's how it will work. A new page every Monday, with new comics, a short installment of the Barnyard Pete Show, and a monthly edition of Banion — The Podcast. The individual pages will be archived, not the individual comics. (However, the old YDK comics are archived, just click on the text at the top right of the comic.)

Catch that? The Barnyard Pete live-action shorts will now be in Flash (much faster to produce), and Banion (clueless but serious detective in the Joe Friday tradition with his own webcomic) will now be podcast as an old-style radio drama. Looks like my theory about webcomics being a breeding ground for other forms of creativity wasn't too far off. Speaking solely for myself, Dunne had me at an all new Nippleshine Manor! Welcome back to the game, Mr Dunne — should a hiatus come up again, I'll be waiting for your return.

Know who else we haven't heard from in a while? Nicholas Gurewitch. Know who's trying to remedy that? Andrew Farago:


The Cartoon Art Museum's Monsters of Webcomics exhibition is so big that it needs TWO opening receptions with special guest Nick Gurewitch, creator of the popular webcomic The Perry Bible Fellowship.

On Thursday, August 27, Gurewitch will meet fans and sign copies of the two bestselling Perry Bible Fellowship collections, The Trial of Colonel Sweeto and The Perry Bible Fellowship Almanack. The booksigning is free and open to the public.

On Friday, August 28, Gurewitch guides Perry Bible Fellowship fans through an artistic thesis about visual storytelling, and will go behind the scenes of comic-production with co-writer/spiritual advisor Evan Keogh. Special guest Michael Capozzola (stand-up comedian and creator of the San Francisco Chronicle's Surveillance Caricatures) will lead a Q&A with Gurewitch immediately following the presentation. This is a ticketed event. General admission for this presentation is $10, or $5 for members of the Cartoon Art Museum.

Those of you in the San Francisco area at the end of the month, take notes and report back to us.