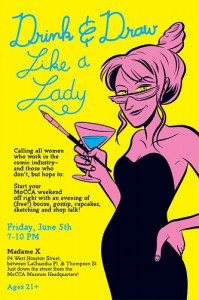 If anybody from the Museum of Comic and Cartoon Art is handling press info for the upcoming MoCCA Art Fest, I think your email is broken. Contact established! Yay! Also, we're only a few weeks out, and while the webpage for the Fest has this year's show poster, the bulk of the information there is still for last year's show.
Seriously, I love the MoCCA show (and am looking forward to the new venue like nobody's business), but without at least a list of exhibitors and preliminary schedule of programming, people are going to start to get nervous about whether or not they should come by.
In fact, the one event that I'm certain is going to happen in conjunction with MoCCA is unofficial — Hope Larson would like comickers of the lady persuasion to drop by a get-together the night before for sophisticated adult-type beverage imbibing, cupcakes, and art, art, art. Ladies and Ladies, I give you Drink & Draw Like a Lady. I'll be wandering around looking at your sketchbooks the next day, where I hope to see amazing art that magically becomes looser, scribblier, and drunker as the pages flip by. Also, if there are any cupcakes left over, I'd be happy to ensure they don't go to waste.
Lightning Round!
Okay, that last one doesn't have anything to do with webcomics, but I don't care. Deal.