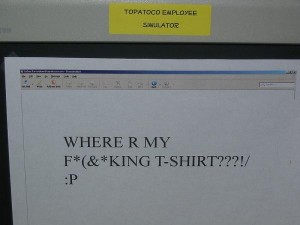 Three hours sleep, not all my clothing arrived with me, technical problems at the client gig, and more. Forgive me if my planned, witty discussion of Howard and Phil joining Kate in being up for major awards, and how the other webcomics show kicks off this weekend (for the fifth time), and how the gang at Digital Strips interviewed the crap out of everybody at NEWW™ (including a hack webcomics pseduojournalist) doesn't happen.
Instead, photos from NEWW™. Enjoy.
The Eastworks building was unaware of what was about to hit it: dancing behemoths and webcartoonists fueled by liquid rage and greasy food. Ten minutes in, the crowd was in disarray, fleeing from the brain-eating fury of Krishna Sadasivam, David Willis, and Spike.
Wait, did I day "brain-eating fury"? I meant, "polite sketch-providing", from Randy Milholland, Paul Southworth, Angela Melick, and many others who didn't have the common courtesy to be in focus.
The Print vs Web vs Bear panel featured Chris Hastings, Jon Rosenberg, the beard of Steven Cloud, Commissioner James Gordon Hastings, and a crowd suitable for a biblical epic. You've seen the photos of the Webcomics Weekly panel from others, so please enjoy the sensual stylings of Ryan North as he entertains visitors to our American shores, and the cutest photo of the weekend — a mutually starstruck Rene Engström and Karl Kerschl.
Join us tomorrow when I'm more awake, and we'll show how it's all fun in games until somebody loses an eye, how Scott Kurtz got to fight crime, and Ryan North holding delicious meat.