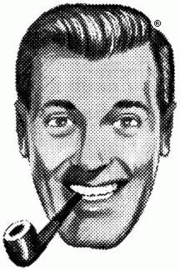 So I just happened to be looking at our WordPress stats and fell into a reverie of almost Proustian depths. Long ago, in December 2005, an ambitious young webcomics blog launched and gosh darnit! the writers were gonna make their dreams come true. Somewhere, in response, crickets chirped. It's possible that a dog licked itself as well. Today, that plucky lil' blog regularly hits daily readership numbers in the four figures, making it more an exercise in talking to itself than anything else. But heck, isn't that most blogging?
Fleen now has 1353 posts below this one, the result of the efforts of nine different people. So why the introspection? Because we, as a species, are attracted to Big Round Numbers, and I'm about to hit one of them. This is my 999th post at Fleen; tomorrow will be #1000.
I started this gig with the understanding that I'd post at least once a day, Monday to Friday, but have thus far radically exceeded that. Of course, some of those posts are fillers, and there was that vacation where I ran some reruns, and entries in the new writers contest three years back were run under my byline, but what the heck — it's still a Big Round Number and I'm enjoying it for the moment.
So upon reaching the Not-Really-But-Let's-Pretend milestone tomorrow, I pledge to remain the bitter, haggard wordbeast that I have been transformed into, and to continue to provide you with the finest in semi-abusive opinion-mongering that a hack webcomics pseudo-journalist can produce (leavened with occasional actual facts, advocacy, and batshit insanity thrown in for variety).
Speaking of which, did everybody see Ugly Hill today? I'm torn between hoping those crazy kids make it work, and waiting for the inevitable shoe to drop in the form of unbridled chaos and vein-popping madness. Only two more strips to go, and then we find out what new project Paul Southworth has under wraps.