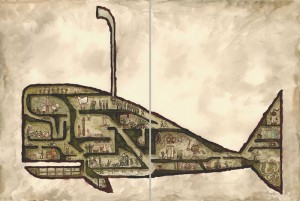 We at Fleen have written about Scott Campbell before — he of the awesome Igloo Head & Tree Head stories in the various Flight anthologies, the cover of MC Frontalot's latest CD, and the hundreds of comics over at Double Fine. Honestly, we at Fleen can't get enough of him.
And those of you in the greater LA area will have an opportunity to check out even more of Campbell's work this weekend, as his solo show, HOME SLICE, comes to Gallery Nucleus:
HOME SLICE is a cleverly conjured concept of cutaway homes which allows all of us the opportunity to peer into the everyday lives of the numerous charismatic characters which inhabit Scott C.'s world.

Scott C. illustrates the internal workings of Rocket House, Whale House, and Cloud House among others offering his largest original works to date.

This exhibit will be unparalleled in nature with over 25 new works, a contest giveaway, an exclusive print release, installation work as well as puppets (yes, puppets!) handsomely crafted by the talented gang over at the Annie award-winning Screen Novelties.
The opening reception is this Saturday, March 7, from 7 pm to 11 pm local time. As is the custom at such events, Campbell will be there to meet and greet, and there will be refreshments. HOME SLICE runs through March 23rd.