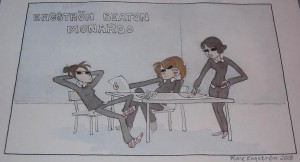 First of all, look up there at what I got in the mail today, still in its protective plastic shield to guard against troublesome postal carriers and customs guys! There's so much cool emananting from those ladies, it threatens to make me sit at the dork table in the lunchroom.
Okay, for those of you going to NY Comic Con next week, here's some panels you may want to keep an eye out for. Some of them are directly related to webcomics, some have webcomics luminaries associated with them, and some are nothing to do with webcomics per se, but will be useful or awesome nonetheless.
Comics for the iPhone and the Big Small Screen, Friday, 2:15 to 3:15, 1A17
With the advent of bigger screens and increased bandwidth, mobile comics are now poised make a creative and economic leap to become a major force in the world of comic books. Uclick, the top name in mobile comics, leads the way with their expanding line of GoComics for the iPhone, and they're at NYCC with comic creators and technology experts to discuss the exciting opportunities offered by the next generation of mobile devices.
I don't think mobile comics have reached anything resembling their potential yet, but am I the only one to think it'll be achieved not by the corporate model?
The Business of Webcomics! LIVE!, Friday, 3:15 – 4:15, 1A21
Watch PVP Online's Scott Kurtz take thematic suggestions from the crowd as he, on stage, creates a brand new online property while Penny Arcade's Robert Khoo simultaneously turns these concepts into monetizeable business models. Take notes! I saw them do this at SDCC 2007 and the side discussions on things like character design were much more interesting than the business end of things, especially when Khoo says things like, "Don't try to squash the comic into a business model or niche … it's my job to drum up that business. Just make a good comic."
Zuda Online, Friday, 3:30 to 4:30, room 1A06
Zuda Comics invites you to read, vote, and create — and come hear what's new from the internet's hottest web comic lineup. With new projects and concepts premiering constantly, DC's innovative online imprint helps makes your creative voice heard. Sayin' nothing.
Comics and New Media, Friday, 7:00 – 8:00, 1A18
Edit to add: Josh Neufeld posted in the comments to both correct the time & location of the session (as always, double-check for last-minute shifts) and to point out that I'd missed his web-to-print transition in my cursory research; Fleen thanks Neufeld and apologizes for the omission.
What challenges do we, as publishing professionals, face with the rise of new media? How has it influenced the editorial process and the promotion end of things? How have web comics affected the industry? And, what happens when web comics transition to printed books? This round table includes Larry Smith, Josh Neufeld, Lisa Weinert, and Kate Lee. Am I alone in thinking that maybe including somebody who's made the transition from web to print would be useful on this panel?
Gabe and Tycho Spotlight, Saturday, 12:30 – 1:30, 1A06
In their first East Coast appearance since 2005, meet Penny Arcade's Gabe and Tycho as they field questions about their web comic, PAX, Penny Arcade Adventures, Child's Play, becoming gamer dads, and life in general. Consistently a funny offering.
Intellectual Property 101, Saturday, 2:45 PM to 3:45 PM, 1A21
Artists often spend years creating winning characters or works, only to lose at the bargaining table because they haven't prepared for the deal or have failed to properly protect their rights. Scheduled topics to be discussed include an overview of copyrights, trademarks, and rights in ideas, the importance and how to register your copyrights and trademarks, what to do if someone is improperly using your works or ideas, non-disclosure agreements, work for hire relationships, the pitfalls of joint authorship, employment contracts, and negotiating licensing agreements. This seminar will be conducted by attorneys Thomas A. Crowell, an IP and Entertainment Law practitioner with The Law Office of Thomas A. Crowell, LLC, Walter-Michael Lee from the IP Practice Group of Gibney, Anthony & Flaherty, LLP, and Sheafe B. Walker, an Employment Law practitioner with The Law Office of Thomas A. Crowell, LLC. Want to do this for a living? This one's important.
Working for Wizard Magazine, Saturday, 3:00 to 4:00, 1A17
Sit down with the entire Wizard staff — from editors to staff writers to the Price Guide team to the techies at wizarduniverse.com — to talk about the comic book industry's #1 source for news and entertainment for the last two decades. Hear how the magazine is put together every month and get the inside scoop on what it's like to work in comic publishing. Drop off your resume and writing clips for possible freelance or full-time work, then sit in and ask questions of the staff, and make suggestions on what you want to see in the magazine. Brought to you by the editorial staff at Wizard Magazine and Wizard Entertainment! Uh, yeah. I offered Rick Marshall (formerly one of "the techies") a dollar to go to this panel and heckle. Don't tell him, but I'm planning to increase that offer until he goes.
CAG and the Benefits to Web Comics, Saturday, 4:00 to 5:00, 1A23
Web comics are on the rise! Join the Comicbook Artists Guild (CAG) as members discuss the benefits of membership. Build your portfolio, gain instant exposure, and link your web comics to other web pages joining this growing movement. It's easy. It's cheap. It's immediate. And CAG can help connect you with other artists, writers, and creators to make it happen! I really wish I knew who was going to be on this panel; sounds good, though.
Making Comics with Penny Arcade, Sunday, 12:30 – 1:30, 1A24
Created originally for grade school classrooms, watch, learn and participate as Penny Arcade's Gabe and Tycho teach you and your kids how to make comics! Although appropriate for all ages, this is a very kid-safe panel! Gotta confess, this is the one panel I most want to see this weekend; in part, because Mike & Jerry have written about what a thrill they get from working with kids, and in part because I want to see what "kid-safe" Gabe & Tycho are like.
NYCC Classes: Comic Strips, Sunday, 1:00 – 2:00, 1A15
How to write and draw newspaper-style comic strips. Pacing, design, and even syndication from working comic strip creators. Panelists include Chris Eliopoulos, Chris Giarusso, Danielle Corsetto, Brad Guigar, and Tom Wilson. Hosted by Matt Herring. Guigar and Corsetto, of course, have mastered the newspaper-style form while on the web. Oh, irony.
Scott Pilgrim vs. The Panel!, Sunday, 1:30 to 2:30, 1A14
Harvey, Doug Wright, Joe Shuster Award-winning, and Eisner-nominated creator Bryan Lee O'Malley sits down with NYCC to discuss his ground-breaking, slice-of-life series Scott Pilgrim. From its genesis to the NYCC release of volume five, O'Malley talks frankly about where Scott Pilgrim came from and where the series is going from here. With moderation by Douglas Wolk and a fan Q&A to close the discussion, this is a must see event at NYCC 2009! Oh hell yes. You all know that Scott Pilgrim 5 drops on Wednesday, right?
Not listed in the program guide, but Carla Speed McNeil will be on two panels, where she is consistently an awesome speaker:
Her Face Was an Open Book: The Art of Character, Friday, 6:00 to 7:00, 1A24
How does character design play into a cartoonist's working process? Does a creator's idea of who a character is ever change after that character appears as an image? How hard is it to draw a character that fits a prose description? We'll discuss these questions and more with Christine Norrie (Breaking Up), Dash Shaw (Bottomless Belly Button), and Thom Zahler (Love & Capes). Moderated by Douglas Wolk (Reading Comics).
The Beat Presents The Art of Storytelling, Sunday, 11:15 to 12:15, 1A06
As comics have become a more influential part of pop culture, their stories and characters are known more widely than ever. Step inside the minds of some of the comic biz's best storytellers to find out how they approach their craft and shape their visions to create their best known works. Moderated by Heidi MacDonald, with Jim Lee, Marv Wolfman, and more.