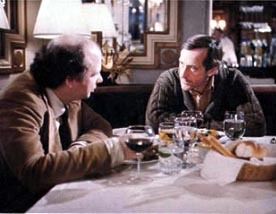 So Chris Onstad made it to the New York Metro area on Friday evening; I had never met the gentleman before (unsurprising, as he keeps a relatively low profile, with even photos of the man being Pynchonesque in their rarity until this year), and found him a capital fellow. I have only one regret about the entire affair, which we will get to presently.
My buddy Brett and I met up with Chris Hastings, David McGuire, and Rick Marshall Willenholly at the bar next door to Rocketship. Our intrepid crew can be seen in this photo from the Rocketship blog report.
As it turns out, the line would wind through the comic shop, into the back hallways, and through a door back into the bar by the time we were done — Onstad, faced with a signing line more than five hours long, wisely fortified himself with all that the very skilled bartenders had at hand.
Finding out that Onstad was signing for five hours really puts the two and a half we spent in line in perspective — in part, it was so long because he took the time to greet every person that came up to him, shake their hand, and talk with them for a minute or two. For that time, the fan in question was his entire focus, which is a remarkably kind act on his part. Having obtained a sketch in my copy of The Great Outdoor Fight, I walked the line backwards and estimated that 150 people still remained at that time.
Things that stuck out during the evening:
Asking Onstad about his interview with Steve "Ratboy" Inskeep, I was told that it was "weird". The taping took place at 8am with Onstad in a west coast studio, and inexplicably there was nothing to drink. There was no coffee, nothing in the studio … all I could think was, 'There's a warm Sapporo in my car … let's rock.' Weird or not, it was great to hear what Ray and Beef's voices sound like.
Onstad drew a lot of Roast Beefs, but I chose Mr Bear, based on his self-evident badassery of the past few weeks. Here's where the one regret comes in — had there been a light turnout and plenty of time to talk without holding up the line, I definitely would have asked for Ray ripping off Cody Travis's face. But only after I got home did I even think that I should have asked for a picture of Ramses Luther Smuckles. Next time for sure.
Standing in line just behind Hastings, I was able to observe what two webcomics pros are like when they admire each others work, meet for the first time, and come to the near-instant decision that they need to work on a project togther.
McGuire has a terrific new giveaway to promote Gastrophobia — a sticker of an entire strip. Stickers I've seen plenty, but I think this is the first one I've collected with a full story in just a few square inches. Very clever.
There had been hopes to meet up with Magnolia Porter, but alas we missed each other.
Onstad confirmed to Hastings the answer to one of the great enduring mysteries of webcomics! Namely, the person in the gorilla suit at SPX07 has now been positively identified! As suspected in some quarters, the gorilla is a prominent webcomicker! Contacted via email for comment, the faux-simian muttered something about getting away with it, if not for those darn kids !
On an unrelated, but no less important note, Fleen wishes a very happy birthday to Meredith Gran. It's absolutely astonishing that you are only 24 years old and have already produced a body of such good work going back nearly a decade.