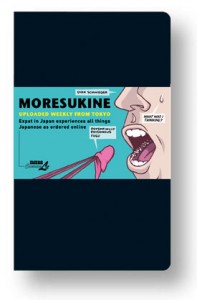 One of my favorite discoveries since I started writing for Fleen was Moresukine, a journal webcomic (named for the beloved notebook it was drawn in) of sheer brilliance by Dirk Schwieger. Finding himself in Tokyo as a translator for a software company, Schwieger issued a challenge — send him tasks to accomplish in Japan, and he would undertake to:
fulfill these missions;
in the order they were received;
regardless of personal interest in the task;
and draw a comic about each experience
I've gone back to Schwieger's two dozen adventures (which were spaced over a period of six months or so) time and again since then, and now I have in my hands the printed version of Moresukine, which hit the stores this week after a delay of some months (Christopher Butcher noted that the copy he bought from Schwieger at SDCC suffered cropping and printing problems, and speculates that the delay in rollout was to fix these problems). It's a marvel.
For starters, the physical form of the book is an echo of the Moleskine — a black notebook with the ubiquitous ribbon bookmark (although pasted to the inside of the back cover, not sewn into the binding as in the genuine article), which is a necessity to properly present one of the postings. Schwieger's journal is faithfully reproduced (minus a few ink smears), complete with the irregularly-spotty blacks in the title block of each new entry — the natural variations from Schwieger's ink-stamp masthead being pressed into paper.
Especially interesting is the production job of mission #6, Gender, which is presented out of chronological order. In order to preserve the full impact of Schwieger's visually intricate and interconnected work, Gender was printed on a single sheet and folded over twice. With the story on the hidden inside of this micro-booklet, the outside faces form pages 2 – 4 of mission 8 (Home Story) and page 1 of mission 9 (Para Para). It's a bit hard to explain, but when you get to Home Story and notice the pages feel thick? Lift up from the bottom and turn the sheet outward on itself, and enjoy Gender. Just be careful folding everything back together again.
Having thoroughly digested Schwieger's stories as they were posted, I thought that the paperfolding trick would be the only real surprise to be found in the book … it was a pleasure to be proved wrong. A year and a half ago, Schwieger sent his own challenge to ten webcomics creators whose work he enjoys — meet a Japanese person in your home city and have a conversation, then document the encounter in a comic.
Over the next four months, responses came back and Schwieger included them in the back of Moresukine. Even better, I was completely unfamiliar with more than half of the respondents, as they were heavily concentrated in France and Germany. The guest comics ranged from one-pagers from James Kochalka and Ryan North to 8- and 10-page complete stories from the likes of Monsieur le Chien and Marcel Guldemond. There's a huge variety among artistic approaches and styles in the 10 guests — more than enough to spend days trawling through archives for a new favorite.
In all, it's a beautiful piece of work, stunningly original, and well worth your investigation. You could just read Moresukine online, but trust me — this is one work of webcomickry where the the weight of a tangible artifact only enhances the experience.