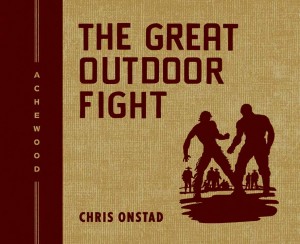 Some things you will never get sick of; strand your ass out on a desert island, and they're what you'll take with you to keep sane.
For me, the list includes the collected essays of Stephen Jay Gould, Carmina Burana, Perpetuum Mobile, Save It For Later, Watermelon In Easter Hay, In Between Days, Dance, Soterios Johnson, Dance, seasons 3 – 5 of The Muppet Show (anybody know where I can find a clip of the "teach yourself to fly" sequence from the Linda Carter episode?), the collected works of Hayao Miyazaki, Brad Bird, and Sir Simon Milligan & Manservant Hecubus, and as of today, The Great Outdoor Fight. Also a boat.
The most obvious challenge in creating this book: the strips collected here ran between 11 January and 30 March, 2006; they ranged from simple two-row strips of genteel conversation to irregular, screen-filling, action-packed behemoths (including Ray ripping a dude's face off), which seem impossible to fit onto a regular page.
Creator Chris Onstad adapted by working with a page sized to two rows of panels, and chopped the strips into a continuous narrative, resizing where necessary to make it all an orderly grid. An occasional LATER or THE NEXT MORNING caption added allows the narrative to flow in a continuous manner, with almost no hint of the discrete installments that left readers sometimes waiting for three or four days for the next update.
This itself is remarkable, as Onstad has been famously quoted as not planning out his story lines — the characters go where they go, and surprise him as much as the rest of us. But The Great Outdoor Fight functions first and foremost as a complete story, and it's nearly impossible to imagine that anyone could construct it one day at a time. The only hints that this was the method of creation come from the rising and falling panel counts in the individual online updates, which isn't perceptible here; a few new, wordless splash pages are all that are necessary to bridge the transistions.
From the seemingly innocuous entrance of Todd (to talk about a genital-themed truck accessory of all things) to the final, somewhat abrupt "FIN", The Great Outdoor Fight functions as a pure distillation of years of Achewood — the new reader can see the grand themes and histories of the characters coming off the page without a single page of backstory narration. You need not have read since small times to realize that it's a big deal for Roast Beef to use punctuation. No familiarity with Ray's scheming ways are required to know that he is not strong, that he is a coward who would desert a dying man. Ramses Luther Smuckles, a mystery to the old Achewood fan and newcomer alike, so perfectly wears his character in a mere ten panels that years later, a single shot of a bumper sticker is all that's necessary for the reader to know he's returned.
Onstad rounds out the book with a series of extras that provide the perfect context for this story. From the start of the Fight in 1923 at Ken Crandall's farm to a selected set of champion biographies (including the cautionary tale of Ty Jessup, enticed into changing his name as a gimmick by an internet startup), to the significance of a black wristband, Onstad gives his creation a weight that's astonishing.
It's worth noting that these additions are original, and not taken from the fan Wiki that sprang up in the wake of this strip. Entertaining as that massive (and quickly-created) enterprise is, it's an ahistorical artifact with only slight relation to Onstad's world. In a few millenia when they make a weekly brainbox series about The Great Outdoor Fight, the wiki will be the writer's bible; unfortunately, it will resemble what really happened on the Acres in the same way that Xena: Warrior Princess resembles Thucydides. Appropriately enough, Onstad references this phenomenon in history of the early Fight:
Some had Crandall shooting the victor dead and burning down the barn with all the bodies in it before killing himself; some merely substituted flank steak for the turkey. Penny paperbacks, utter pulp fan-fiction accounts of the event, were widely circulated. There was an illustrated Great Outdoor Fight training manual for children, a weekly radio program recapping the latest rumors, and even a book of Great Outdoor Fight recipes targeted at women.
Some of those recipes are reproduced in the book, by the way; I will be trying the Great Outdoor Delight and the "Dinosaur" Potato Chuds at the first opportunity¹.
Read The Great Outdoor Fight, perhaps most urgently if you are not a fan of Achewood. The characteristics of the strip that keep new readers from casually getting in on the game (and this is a weakness of Achewood — it took me four or five attempts before I really got it) are entirely absent here. The characters, the unique voicings, the utter batshit insanity that's fully and completely committed to in service of the story are all here. And when you're done reading it, you will find it is not sass in the main. This is a thing. This is completely a thing and Onstad's every move is the new tradition
_______________
¹ Although I fear that after the Chuds, I will be forced to quote Roast Beef and for the same reason ask you to excuse a man.