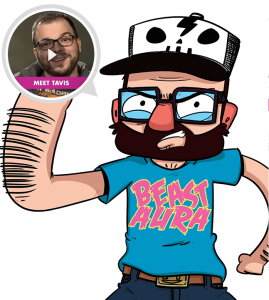 One of the more gratifying aspects of Strip Search has been watching a pretty significant explosion of creativity from the Artists; while they surely would have continued on their individual trajectories of comic-making, that period of time when they were cooped up together in a luxury mansion and able to resonate off each other has produced a lot of interesting work, not all of it seen yet. So when Tavis Maiden offered to talk to me about his plans for his next comics project, I was happy to do so.
The back-and-forth that we had was so extensive, I've had to split it into two parts. Today, Maiden talks about how being a father has influenced the forthcoming Tenko King, what he wants to achieve with it, and his thoughts on Kickstarter.
Fleen: So tell me about what you want to do with Tenko King that's different from what you've done in the past. You're the master of the BEAST AURA, so why do you want to launch a new project?
Maiden: I wanted to write a letter to my kids. What it's like to grow up and what it means to be a parent watching from the outside. Tenko King is the culmination of my childhood, and my perceptions of life as an adult for me. It's a way to understand that life is a Journey, not a destination.