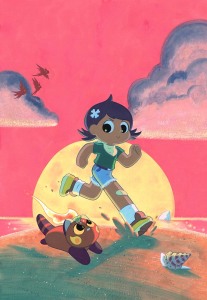 Okay, disclaimers out of the way: the comics-making duo known popularly as Becky [Dreistadt] & Frank [Gibson] are practically family; despite the fact that they went to art school with a niece who is totally my dogg since small times, I believe that I would have found my way to their work in any event. Dreistadt's paintings are whimsical and achingly beautiful at the same time, and Gibson's command of language is playful and erudite in equal measure.
Their latest project, a comic book adaptation of a 151-painting series in tribute to Pokemon, releases in a few weeks, and Gibson was kind enough to take some time out to talk to me about it. As an added bonus, Gibson sent along a four page preview of the first issue, which you can see below.
Fleen: Thanks for taking the time to talk to me today.
Gibson: Thanks for having me!
Fleen: So tell me how the Capture Creatures comic book came about. Natural outgrowth of the art project? Shannon Watters¹ come to you with a request for a pitch and an offer of 6 issues minimum?
Gibson: We were thinking about a Capture Creatures comic before we even did our 151 project. It was originally the name of a comic series that we felt like we would never have the time to do. The 151 series was our way of making a creature project "manageable" aka 2 years of constant painting, a Kickstarter etc, etc. We'd been working with Boom on a bunch of projects, doing short stories for Adventure Time. Then they asked if we had ideas for a Capture Creatures book. Which of course we did. They pitched us ways to make the project manageable, since we're a little busy these days, and it's worked!